🧑‍🍳

Recipes

Vietnamese Recipes for a Vibrant Tet Festival
Celebrate the Tet Festival with these delicious Vietnamese recipes that will bring color and flavor to your table. From traditional dishes to modern twists, there's something for everyone to enjoy!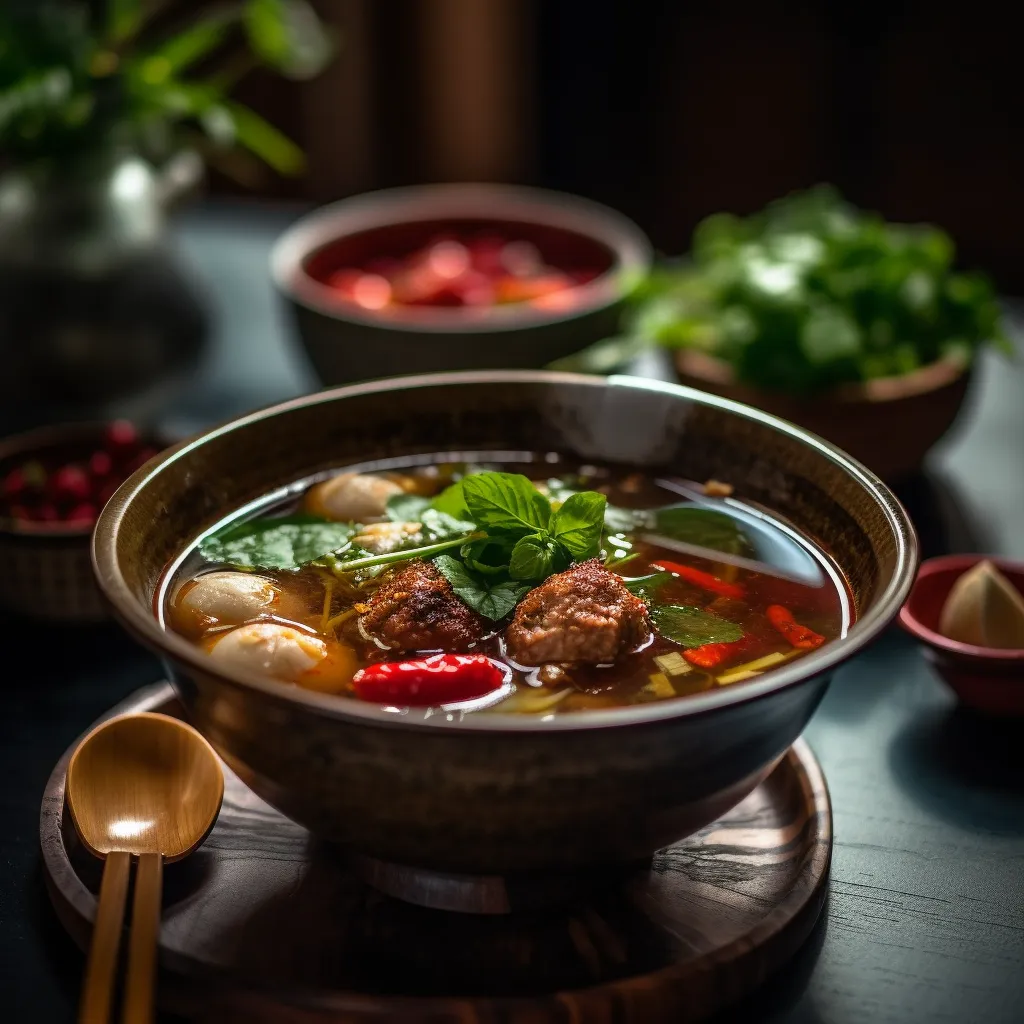 The Tet Festival, also known as the Vietnamese New Year, is a time for family, friends, and food. It's a time to celebrate new beginnings and honor ancestors. And what better way to do that than with delicious Vietnamese cuisine?
Here are some recipes that will bring color and flavor to your Tet Festival table:
Bánh Chưng (Sticky Rice Cake)
Bánh Chưng is a traditional Tet Festival dish that symbolizes the Earth. It's made with sticky rice, mung beans, and pork, all wrapped in banana leaves and boiled for several hours. The result is a savory, slightly sweet cake that's perfect for sharing with loved ones.
Gỏi Cuốn (Spring Rolls)
Gỏi Cuốn, also known as fresh spring rolls, are a refreshing appetizer that's perfect for any occasion. They're made with rice paper, vermicelli noodles, shrimp, pork, and fresh herbs, and served with a peanut dipping sauce. The combination of textures and flavors is sure to impress your guests.
Bún Chả (Grilled Pork with Noodles)
Bún Chả is a popular street food in Vietnam that's perfect for a casual Tet Festival meal. It's made with grilled pork, rice noodles, fresh herbs, and a tangy dipping sauce. The smoky flavor of the pork pairs perfectly with the fresh herbs and noodles.
Chè (Sweet Soup)
Chè is a sweet soup that's often served as a dessert during the Tet Festival. There are many variations of Chè, but most are made with coconut milk, sugar, and a variety of beans, fruits, and jellies. It's a refreshing way to end a meal and satisfy your sweet tooth.
These are just a few of the many delicious Vietnamese dishes that you can enjoy during the Tet Festival. Whether you're celebrating with family or friends, these recipes are sure to impress.
And if you're looking for more inspiration, ChefGPT can help. With its AI-powered recipe creation capabilities, you can easily create your own Vietnamese dishes and put your own twist on traditional recipes. So why not give it a try and see what delicious creations you can come up with?
Celebrate the Tet Festival with these delicious Vietnamese recipes and make new memories with your loved ones. And don't forget to check out ChefGPT for more recipe ideas and inspiration.